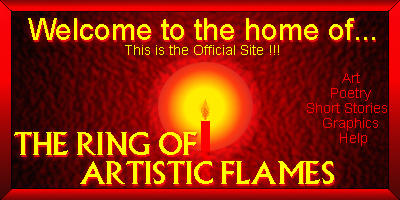 My name is Tony M., my friends call me Zenturian (Zen). I started the Ring so that I could help other Artist and Poets get some recognition for their sites and a little more traffic. I myself like to do very many forms of art... not any one style, and most rings like to deal with one style... poetry, graphics, photography, illustration... and so on! Well I don't like to restrict people or their imagination, so I started my own ring. Because we all have our own Flames of Artistic Desire... I named this The Ring of Artistic Flames. (note: with the help of my good friend Bo). So if you are not the type that follows one particular kind of style, then you are definately the kind of Artist / Poet that belongs with friends like you!!! Here in The Ring of Artistic Flames!!!
Rules of the Ring:
There are only a few rules that I expect the Ring Members to follow:
1) No Profanity or Nudity ... this ring is for those that have children or at least respect those that have them!!
2) No abusing the other members rights to their work. Any site caught using another members works without their express permission, will be investigated and possibly terminated from the Ring. Any person so accused is not automatically booted, both sides will be given the opportunity to present their case. I will post the facts in a private window for members only, and will have a vote on the situation. A majority ruling will determine the outcome.
3) No bulk E-mailing or Spamming the other members will be tolerated.
4) No site will remain active at any time that it is discovered they removed their link to this site.
5) Acceptable places for the link shall be the home page / index page, the specific sections main page that pertains to Art / Poetry, and the links page for your site. (In any combination of one or all the above)
6) The Artwork for The Ring of Artistic Flames ... falls under all applicable copyright laws and it is forbidden to change the artwok in any fashion. (Any Suggestions for improving it are more than welcome, and please submit them to the RingMaster. Anything that is used will be acknowledged as a piece of work that was designed by the person who submitted it!)
7) There are no more rules!!!
8) Sign Me Up !!!

Disclaimer:
The Ring of Artistic Flames tries to uphold that it's members are quality people and that they intend to keep their sites in conjunction with the Rules of the Ring. Any site that has joined was evaluated before acceptance and if their content has changed since then to a less then pleasurable nature. We would appreciate a notice of such a site so that the Ring may take appropriate action. But since we are made up of individuals, we at the Ring of Artistic Flames DO NOT necessarily agree with the views or opinions of any individual in our group, and most assuredly DO NOT group ourselves with those of a Disruptive Nature!